North Star: Every kid graduates from high school college & career ready.
In Clark County, over 70,000 kids attend schools where only 2 in ten students are on grade level in reading and math (Nevada Report Card data, 2018-19).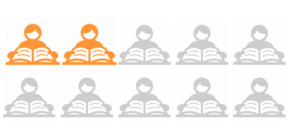 We are champions for quality education.
No matter how complex a school system is, ensuring every kid can access a great school does not have to be difficult. Results from successful models across the country consistently reveal Five Simple Truths for a system of great schools, regardless of changing political conditions:


What We Do


Work with the community to ensure more kids can access a great school in their neighborhood that puts them on track to be college and career ready.


Invest in great schools, organizations, and educator leaders that will provide more kids a high-quality education.


Provide resources and data to community stakeholders and decision makers.


Click here
to see our impact to-date (2019).
---
Our Values


Our vision is at the core of our work each day.


We are committed to the growth of our team to deliver on our mission.


We persist through challenges by thinking critically and working together.


Our individual contributions drive our collective success.


We hold ourselves accountable to our progress and outcomes.


We respect each other's whole selves.


---
Partnerships: