The Ed-Watch series is designed to increase access to information on decisions being made regarding public education in Clark County and Nevada.
---
Nevada State Board of Education
What is the State Board of Education & what are they responsible for? The Nevada State Board of Education adopts regulations based on Nevada laws, which are passed down to individual school districts in Nevada to implement. The Board has 11 total (7 appointed and 4 publicly elected) members.
How often does the State Board meet? The Nevada State Board of Education meets once per month on Thursdays at 9:00AM. Click here to see the 2020 Board Meeting Schedule. Click here to visit Hope For Nevada's #NVEd Calendar.
Can community members engage at State Board Meetings? A time for public comment is provided at the beginning (for agenda items) and at the conclusion (on any matter) of each Board meeting. There is a time limit of three minutes per speaker. Members of the community providing testimony must fill out a visitor card, available on-site the day of the meeting.
Click here for a list of all State Board Members.
---
Thursday, July 23, 2020
Nevada State Board of Education Meeting
Click here to see the meeting agenda
What happened at this meeting?
Public Comment
Members of the public provided testimony via email submission regarding:
Concerns about inequities in technology and device access
Concerns about quality supports for diverse learners
Concerns for students who have not been reached since school buildings closed
Concerns about Speech Language Pathologists' max caseloads
President's Report
President Wynn introduced and welcomed two new board members:
Alex Gallegos, Student Representative
Wayne Workman, Nevada Association of School Superintendents Appointee
Superintendent's Report
State Superintendent Ebert report highlights:
Funding

During the 31st Special Session of the Nevada Legislature, Assembly Bill 3 (AB3) directed $50 million in CARES Act funding to a grant program to be administered by the Nevada Department of Education. School districts can apply for funds to support programs that serve vulnerable students. Funds will be distributed to districts once eligible students are identified. The bill also prioritizes what cuts will be restored if additional funding relief is provided, and listed funding for the weighted funding formula for K-12 and Read by Grade Three as the top two funding priorities, respectively.
The Governor's Emergency Relief Fund allocated $26 million for P-20 education. A portion of those dollars were set aside to purchase a statewide Learning Management System. Other funds have been used to backfill Pre-K.
The US Department of Education has approved the Perkins V Plan for the State of Nevada and the 2020 Workforce Innovation Act Unified State Plan.

School Reopening Plans

Under Governor Directive O22, reopening plans must be submitted to the Department no more than 20 days before school opens. Clark County, Eureka, Nye, and Washoe County school districts have submitted their certifications with their plans.

Nevada Digital Learning Collaborative and Digital Engineers

The Nevada Digital Learning Collaborative has expanded to include 20 new members who represent diverse racial/ethnic backgrounds, speak multiple languages, and represent additional counties in Nevada.
Digital Engineers are currently planning a virtual learning conference in September, likely centered around the theme "Building Relationships in the Digital Space"
The Department of Education has leveraged CARES Act funding to provide a statewide Learning Management System (LMS) for districts to access curriculum and content. Six school districts have expressed interest in leveraging the statewide LMS. The Clark County School District will provide content for grades 6-12.
To compliment LMS, the Department has purchased high quality digital content through Discovery Education that is accessible to every student and educator throughout the state and can be accessed with or without a LMS.

Community Partnerships

Superintendent Ebert recognized United Way of Southern Nevada, United Way of Northern Nevada, Vegas PBS, and PBS Reno for their efforts to support families and students throughout the pandemic.
Board members discussed the importance of ensuring that the quality of digital learning continues to improve. The Board has requested frequent updates from each district regarding (1) internet connectivity (2) availability and distribution of learning devices (3) teacher training (4) how the Department and districts plan to assess student success and (5) instructional delivery to vulnerable students.
Board Approved the Consent Agenda
Consent Agenda Highlights:
Board Heard Updates from the Governor's Office of Science, Innovation & Technology (OSIT)
The Director of OSIT provided the board with updates related to efforts to ensure students in Nevada are connected to devices and have adequate internet to support online learning. OSIT is working to connect families through:
Community wireless infrastructure for groups of students living near one another, including broadcasting WiFi networks within school buildings to be available to students in neighborhoods surrounding the school;
Wireless hotspots for individual students identified by school districts; and
Subsidized home internet service providers.
Additional federal assistance dollars are under negotiation to support Wifi hotspots, connected devices, and support for home broadband connections.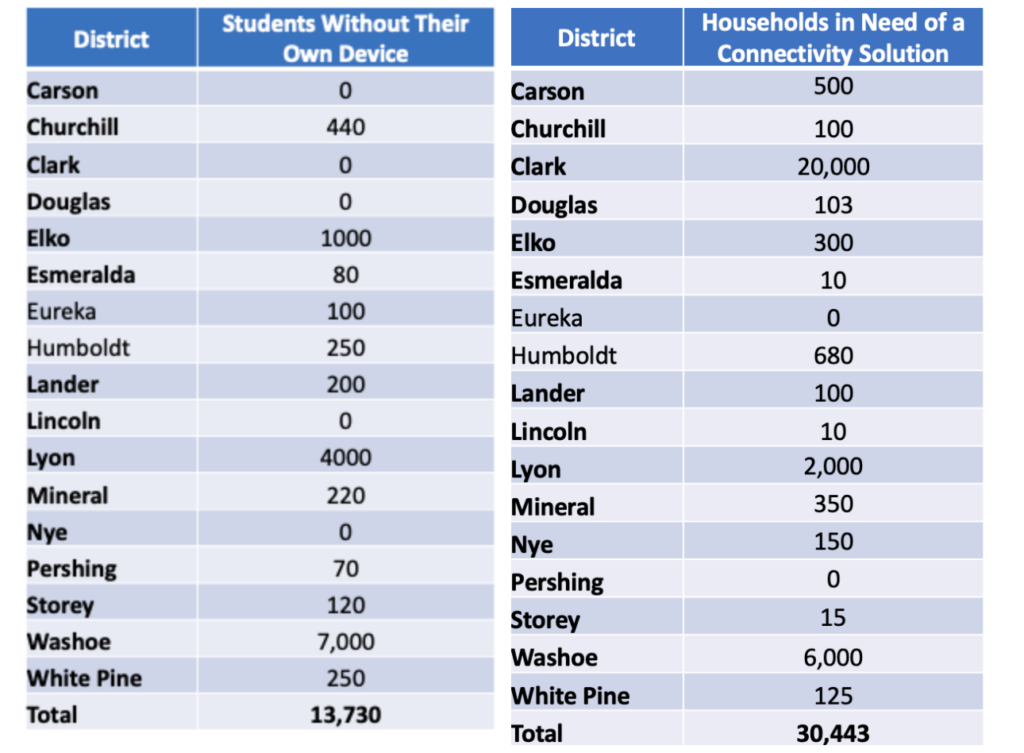 Click here to view the presentation
Board Heard Update from Diversity, Equity, and Inclusion Workgroup of the Nevada State Board of Education
The purpose of the workgroup is to address systemic racism in Nevada's education system that affects students of color, including components such as teacher diversity, discipline practices, and access to technology. The first meeting on the workgroup focused on discussion priorities including:
Upcoming budget cuts;
Supports for with IEPs;
Teaching training on distance learning pedagogy;
Ensuring students have support systems and social connections throughout distance learning; and
Equity training for the Department and Board.
The Board approved a letter to Nevada Legislators and Nevada's Congressional Delegation representatives requesting "support in identifying funding and incentivizing internet providers to address the increasing urgency of Nevada's digital divide."
Board Approved the Statewide Plan for Improvement of Pupils (STIP)
NDE staff provided an updated version of the STIP that includes language changes as directed by the board at the June 4th meeting. Changes were focused on ensuring language used in the STIP is person-first, equity driven, and public-friendly.
Click here to view the STIP
Click here to view the changes
Click here to view the presentation
Board Approved Delta Academy for Alternative Performance Framework
Public schools in Nevada are rated under either the Nevada State Performance Framework (NSPF) or the Alternative Performance Framework (APF). According to NRS 285A.740, schools that are eligible for the Alternative Performance Framework must have a stated mission to serve at-risk students, with at least 75% of students that:
Have been expelled or suspended from a public school;
Have been deemed to be a habitual disciplinary problem;
Are academically disadvantaged;
Have been adjudicated delinquent; and/or
Have an Individualized Education Program (IEP).
Delta Academy will be rated under the Alternative Performance Framework starting in the 2020-2021 school year. They are required to reapply to continue to be rated on the APF in 3 years.
Click here to view the presentation
Board Heard Update From Teach Plus Nevada
The mission of Teach Plus is to empower excellent, experienced, and diverse teachers to take leadership over key policy and practice issues that advance equity, opportunity, and student success. Teach Plus Nevada staff and Senior Policy Fellows presented their policy and advocacy activities throughout 2020, including:
Click here to view the presentation, including recommendations.
Requests For Future Agenda Items
Ongoing reports from school districts on the implementation of distance learning
---
Sign up to receive a notification when a new Ed-Watch post is published: