The Ed-Watch series is designed to increase access to information on what decisions are being made regarding public education in Clark County and Nevada.
---
State Public Charter School Authority (SPCSA)
What is the SPCSA & what are they responsible for? Considered one of Nevada's school districts, the SPCSA sponsors and oversees public charter schools. The Authority consists of seven appointed members responsible for overseeing educational and operational standards, and holding sponsored schools accountable to the academic achievement of students.
How often does the SPCSA Board meet? The SPCSA typically meets one a month, generally on Fridays.
Click here for SPCSA meeting schedule and materials.
Can community members engage at SPCSA Board Meetings? While all meetings of the SPCSA are typically held publicly at the Nevada Department of Education building in Carson City and the Nevada Department of Education building in Las Vegas (1st floor boardroom), all meetings are now held virtually due to the COVID-19 crisis. Members of the public may view the meeting online via the link on the SPCSA's Public Notice web page and the agenda and any supporting materials can be found here. Public comment may be given on any agenda item at the beginning of the meeting, or public comment regarding any matter that is SPCSA-related may be given at the conclusion of each Board meeting. Members of the community giving public comment can utilize the following conference call line: 1-312-584-2401; extension 3952176# with a time limit of three minutes per speaker. Alternatively, public comment may be submitted in writing to publiccomment@spcsa.nv.gov, and any such public comment received prior to the meeting will be provided to the Authority and included in the written minutes of the meeting.
Click here for a list of all SPCSA Members. Click here for a list of all SPCSA sponsored schools.
---
Friday, February 26, 2021
State Public Charter School Authority Board Meeting
Click here to see the meeting agenda
What happened at this meeting?
No members of the public provided comment during this meeting.
SPCSA Executive Directors' and SPCSA Staff Report:
Update on Financial Performance Framework Ratings

Staff has sent final performance framework ratings to schools. All performance frameworks are now available to the public under the Performance Reports Tab on the SPCSA website.
Initiatives Related to Serving All Students Equitably

SPCSA is in the process of working with the Nevada Department of Education to provide schools with access to training on how to review their own discipline data. Earlier this month, SPCSA sent each school a report comparing their school's demographics to those of district and neighborhood schools within their local communities. Schools can use the information to understand whether their school population is representative of the community.

SPCSA will continue to make updates to its website to make it easier for families to select a school and access enrollment, and is currently awaiting feedback from stakeholders before making an initial round of changes. The purpose of these updates is to remove barriers to access to schools.

SPCSA has been working to collect demographic data for licensed educators. This data shows that there is a noticeable discrepancy between licensed staff and students. 70% of public school teachers are White, while White students only make up 30% of enrollment.

SCPSA is seeing some opportunities to access training to all SPCSA-sponsored schools, particularly on culturally responsive practices and restorative justice.
Click here to view the update memo.
Project Aware and MTSS Pilot

Last Spring, the Authority engaged in a process with the NDE and UNR's PBIS Technical Assistance Center to explore ways to support schools with MTSS (Multi-Tiered Systems of Support). SPCSA has established a pilot program to support a small cohort of schools with this implementation and is currently working with 6 schools on this pilot. Project AWARE is a 5-year grant program focused on promoting equity, restorative justice practices, cultural responsiveness, social-emotional learning, and mental health awareness. Project AWARE will focus on 5 strategies.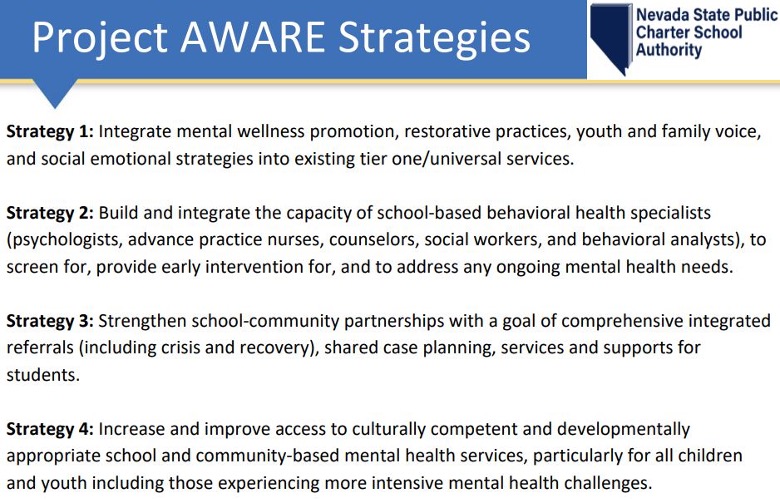 Schools from all over Nevada will be able to participate.
Click here to view the presentation.
Future SPCSA Board meetings

SPCSA is looking to transition to an in-person component to SPCSA board meetings. A potential first step is to have board members in Southern Nevada meet in person beginning at the March meeting. SPCSA will work within constraints to make sure its board can continue to socially distance and abide by State guidance and hopes to gradually move to in-person board meetings.
Board Approved Change to In-Person Learning Guidance
SPCSA has seen COVID-19 test positivity and case rates decline. Vaccines are rolling out to all counties where SPCSA schools are located. In early February, Director Feiden held focus groups and through those focus groups has learned that schools have developed significant measures to mitigate COVID-19. Schools have increased in-person learning steadily over the past months. Schools continue to raise concerns about the academic development and mental health of students. On February 12, the CDC released updated guidance which includes guidance for K-12 mitigation. It emphasizes:
Consistent implementation of layered mitigation strategies to reduce transmission, such as correct use of masks;
Monitoring of indicators of community transmission to assess community risk; and
Implementation of a phased mitigation learning model.
On February 17, Governor's Directive 038 was announced. The directive has two major impacts on schools:
Schools that have facilitated at least 20 days of in-person instruction, whether hybrid or full-time, can increase in-person learning from 50% to 75% room capacity. Schools that haven't facilitated any in-person learning will have to do so for 20 days at 50% room capacity before increasing to 75% room capacity.
Schools that have facilitated at least 20 days of in-person learning (hybrid or full), can go to 3 feet distance learning. Adults are still required 6 feet from students and other adults.
The board approved a motion to lift the Authority's additional in-person learning restrictions on flagged counties and to instead align with the Governor's instructions in Directive 038 per Director Feiden's recommended. Schools are responsible for their reopening plans when there are changes and must submit those plans to the NDE through the SPCSA. This ensures that the SPCSA is aware of school plans in order to answer questions that may arise from community members and families.
Click here to read the guidance memo.
Click here to read Nevada's ROADMAP TO RECOVERY: Pre-K – 12 Education.
Click here to read Governor's Directive 038.
Board Approved Amendments Charter School Contracts
Nevada Prep: The board approved a motion to grant Nevada Prep a Good Cause Exemption and approve the school's requests, with conditions. The school is approved to:

Relocate to a facility at 1780 N. Betty Lane in Las Vegas.

Expand its grade configuration to the 3rd grade beginning in the 2021–22 school year. The school is not requesting a change in the enrollment cap for the 2021-22 school year.

Expand the enrollment caps for the school beginning in the 2022–23 school year to accommodate slow growth within grades 3–8.

The school must also complete the following two conditions:

Complete pre-opening process for new charter school facilities

Submit NWA Map results from the beginning, middle, and end of the year
Click here to read SPCSA staff's recommendation memo.
Coral Academy of Science Las Vegas: The board approved a motion to grant Coral Academy of Science Las Vegas approval to expand to a seventh location, in Henderson, for the 2022-2023 school year. The school must complete the following conditions:

Lease or purchase a parcel on in Henderson by June 30, 2021

Continue to promote the school in multiple languages

Implement a weighted lottery system that enables the school ensure student demographics are comparable to schools in the local area.

Complete pre-opening process for new charter school facilities.
Click here to read SPCSA staff's recommendation memo.
Board Heard Update on New Schools
Las Vegas Collegiate – Las Vegas Collegiate was conditionally approved by the Authority in December 2019 but deferred its school opening from Fall 2020 to Fall 2021. School leadership shared that they are currently looking at two facilities for the Fall opening, will be facilitating a number of community engagement strategies to grow enrollment, and have filled 50% of its open positions for hire.
Sage Collegiate – Sage Collegiate was conditionally approved by the Authority to open in December 2020. School leadership shared that they are working with Building Hope and have identified a potential permanent facility. The school has made an offer on the facility and is going through the process to finalize the agreement; however, the facility is not expected to be ready under December 2021. The school expects to get a temporary site proposal at a Boys and Girls Club location for Year 1 and anticipates a long-term partnership with Boys and Girls Club even after the move into the permanent building.
CIVICA – The Authority conditionally approved CIVICA to open in May 2020. Current enrollment is anticipated to be 340 students. School leadership shared their community engagement efforts, including hosting information sessions for families, and on-the-spot enrollment events at Maya Cinemas. CIVICA has completed its hiring with internal transferred and will begin Interviewing and hiring external candidates next week. The schools expect to see the exterior walls of the new school site going up in the next week. CIVICA has also finalized all 5 conditions that were due to the SPCSA and submitted a letter of intent to receive Charter School Program grant funds.
Eagle Academy – The Authority conditionally approved Eagle in January 2021 to open its campus for Fall 2021. School leadership shared that they are working on securing a facility. If unable to find a facility for the upcoming school year, the school will defer to open in 2022 and take advantage of the 18 months for board training, hiring, community outreach, and other initiatives.
Board Heard Update on Nevada Connections Academy
Last year, the Authority approved a 3-year contract for Nevada Connections Academy (NCA) which goes through June 20, 2023. Under the contract, the school serves grades 9-12, and enrollment for grades 9-10 is capped at 850 students. The contract further stipulates that students can enter grades 11-12 at NCA if they have matriculated through the school from the 9th or 10th grades; however, the school may not take enrollments for grades 11-12 from new students. If the school receives a 1-star rating at the end of the 2020-21 or 2021-22 school years, this will result in the school's closure. Over the last nine months, SPCSA staff shared that they have seen the NCA's strong dedication to improvement. NCA's leadership gave a presentation to the Authority, reporting that Performance Framework targets are on track for this school year. The school has been working on improving feedback to students as well as webmail communications. The school also reported a completion rate of 94% for all benchmark assessments which increased from 92% in Fall 2020. The school is working to make sure students are mastering all of their courses and are providing interventions in areas needed. The school has also implemented ACT preparation for 9th-11th graders and now has a full College & Career Readiness program along with increased dual credit options. 10.6% of 12th graders are now in CTE programs, an increase from 2.6% previously.
Board Heard Update from Quest Academy
Representatives of Quest Academy provided an update on the school's progress and transition from receivership to a full board. On October 15th, 2020, Quest transitioned to an independent board. There is currently a board vacancy that they expect to fill by April, and also anticipate adding two additional members to the board by the 2021-2022 school year. Quest is utilizing a data dashboard that enables them to monitor student learning and growth in order to stay on track to improve the star ratings of the elementary and middle schools.
Click here to see the full update provided by Quest.
Board Approved TEACH Las Vegas Charter Contract
The mission of TEACH Las Vegas is to create a high quality, innovative K – 12 teaching and learning environment in North Las Vegas that focuses on literacy; integrating state of-the-art technologies across the core curriculum to achieve academic proficiency for all students.
The approved contract allows TEACH Las Vegas to open a grades K-7 for the 2021-2022 school year, with an eventual growth to K-12.
TEACH's initial application was denied in December 2020 due to deficiencies noted by staff across various domains in their application to open a school. Upon resubmission, reviewers found that the deficiencies were addressed. Board members expressed their appreciation for the specific attention made by the school to ensure their community engagement efforts were authentically grounded in the community they are looking to serve.
The contract was approved with conditions, including:
Provide 2020-2021 end of year data for existing schools in California
Submit growth data to the SCPSA at multiple points throughout the year for progress monitoring
Submit evidence that the school has a partnership to provide dual-enrollment courses
Click here to see the SPCSA staff's recommendation memo.
Board Heard Presentation from Academica Nevada on Diversifying School Faculty
Academica Nevada is a for-profit Education Management Organization (EMO) that provides a suite of services for establishing and supporting operations for charter schools. Academica services 24 charter school campuses in Nevada, including Doral, Pinecrest, Somerset and Mater Academies, as well as CIVICA and SLAM!.
Academica staff provided an overview of the efforts they plan to undertake in order to diversify the faculty of the schools they support to better reflect the population of students being served. Staff shared that they had not been previously aware of the need to ensure that educators are representative of the students they are serving. Efforts to address the current disparities include "diversity awareness training", increasing opportunities for licensure for support staff, and targeted recruitment at universities with diverse student bodies.
Currently, faculty members that identify as White are over-represented at Academica Nevada schools.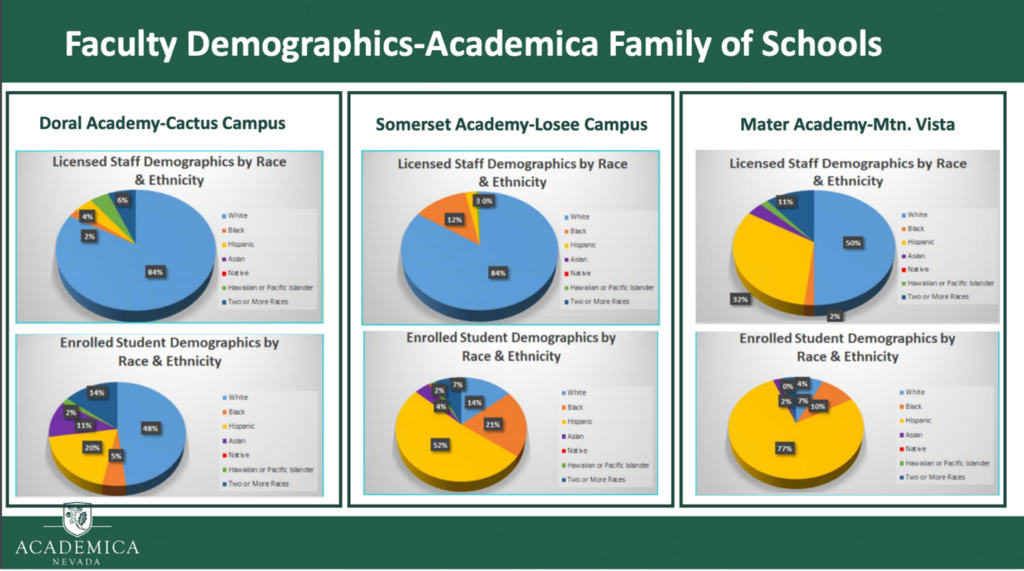 Board members discussed the need to expand their diversification efforts to all staff and the need to include families from the schools in discussions and planning. Additionally, board members recommended ensuring Academica is thought partnering with other schools who are exemplifying leadership in this area.
Click here to see the full presentation.
Board Heard Update on Strategic Plan Progress
Director Feiden provided an update on the progress to date regarding the three 5-year goals outlined in the SPCSA's strategic plan. The board will receive annual updates related to the progress towards achieving the goals. Due to the pandemic, SBAC assessments were not administered, impacting the metrics for Goal 2, outlined below.
Goal 1: Provide families with access to high-quality schools. This goal focuses on ensuring all SPCSA schools are considered high-quality via the statewide star-rating accountability system, as well as ensuring schools are in compliance with the SPCSA's Organizational and Financial Frameworks.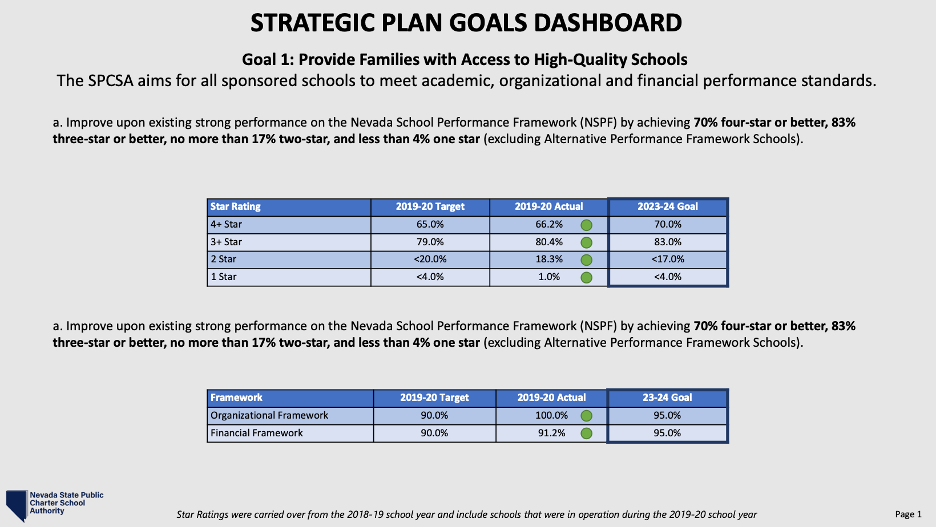 Goal 2: Ensure that every SPCSA student succeeds – including those from historically underserved student groups. Some data points aligned to these metrics are not available due to student assessments not being administered, however other data points were available that indicate this goal is on track.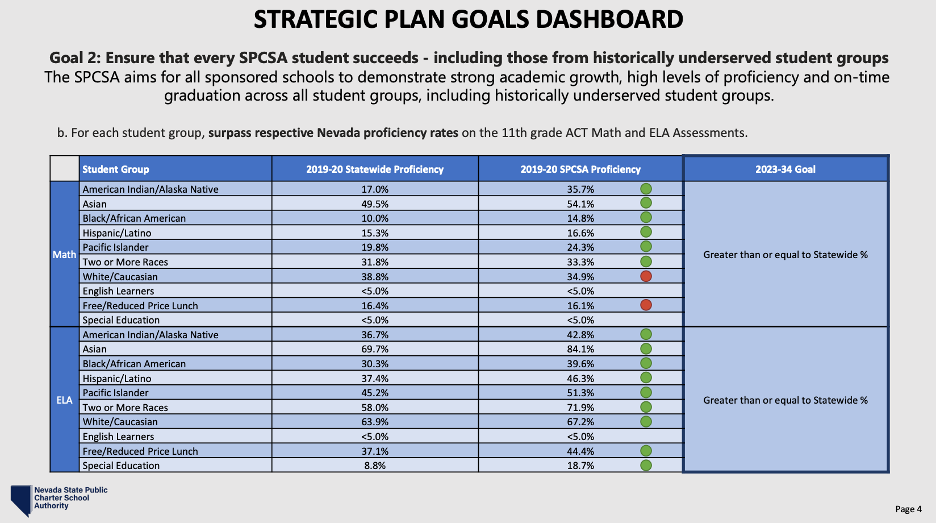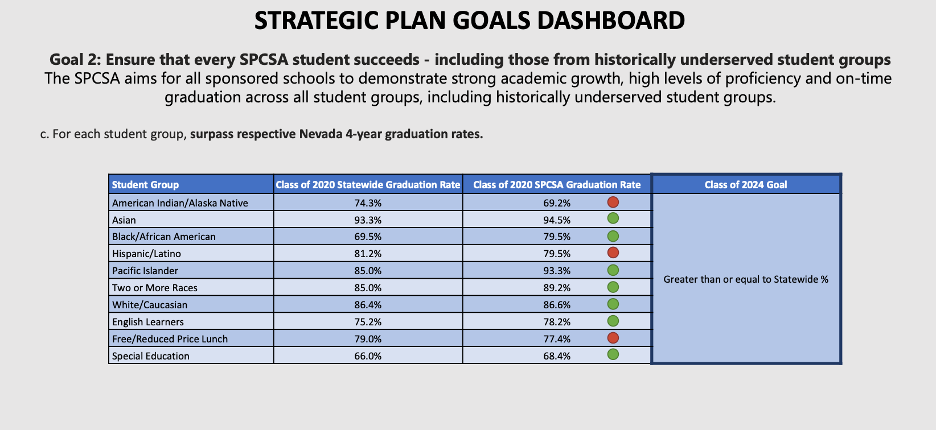 Goal 3: Increase the diversity of students served by SPCSA schools. This goal focuses on ensuring English Learners, students experiencing poverty, and students with disabilities are being equitably served at a rate that is greater than or equal to statewide averages.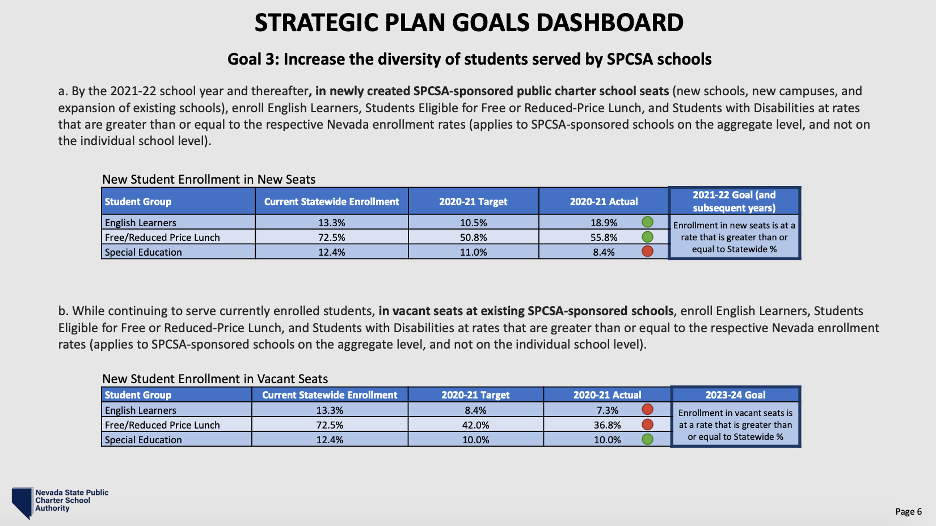 Board Heard Update on 2021 Legislative Session
SPCSA staff has been meeting with legislators, local school districts, and the Department of Education to align on legislation related to education in Nevada. SPCSA is tracking approximately 20 bills, with seven directly related to charter schools. SPCSA staff shared that a recent bill presentation to the Assembly Committee on Education, Assembly Bill 68, was successful and that a friendly amendment is to be incorporated in the language.
---
Sign up to receive a notification when a new Ed-Watch post is published: