The Ed-Watch series is designed to increase access to information on what decisions are being made regarding public education in Clark County and Nevada.
---
Clark County School District Board of Trustees
What is the Board of Trustees & what are they responsible for? The CCSD Trustees are publicly elected decision-makers for the school district. They are responsible for providing oversight to the Superintendent and establishing District-wide policy. Trustees are accountable to work with their communities to improve student achievement.
Click here to learn more and see a list of current Trustees
Click here to find your Trustee District
How often does the Board of Trustees meet? Trustees meet twice per month (second and fourth Thursdays) at 5pm at the Edward A. Greer Education Center (Board Room): 2832 E. Flamingo Road, Las Vegas, NV 89121.
Click here for a full list of Trustees meetings and agendas
Click here to visit Hope For Nevada's #NVEd Calendar
Can community members engage at Trustee Meetings? Decision-making bodies benefit greatly from hearing public input and multiple perspectives. Community members can sign up to speak after the agenda has been posted– by calling the Board Office at (702) 799-1072 at least 3 hours before the scheduled meeting, or signing up in-person at the beginning of the meeting. Prior to each agenda item being voted on, speakers can share their perspective after the Board's discussion and prior to the vote.
---
Thursday, October 8, 2020
Clark County School District Board of Trustees Meeting
Click here to see the meeting agenda
What happened at this meeting?
Public Comment
Members of the public submitted comments online. Public comment was not read directly into the record, and rather an oral summary of each comment was provided to Trustees.
Click here to view public comment submitted on agenda items.
Trustees Approved Consent Agenda
Highlights:
Trustees Approved Title IX Resolution
At the September 10th board meeting, Trustees voted to postpone the vote on the Title IX Resolution over Trustees' concerns with the implications of the changes. At the request of one of the Trustees, language has been added in the second resolution which now requires the Board of Trustees to approve policy to implement Title IX regulations and includes policies based on sexual orientation and gender identity.
The resolution does not change any regulations; rather, the resolution states the District's compliance with federal law and the Board fulfillment of all requirements with the exception of amending or modifying the regulations in due time.
Click here to read the resolution.
Trustees Heard Update on the CCSD's COVID-19 Response
Health Information: The Board heard a presentation on the COVID-19 response from Dr. Fermin Leguen, Acting Director of the Southern Nevada Health District (SNHD). Dr. Leguen outlined the factors SNHD is tracking with regards to opening schools, based on CDC recommendations and guidance. Along with the COVID-19 positivity rate for CCSD students and staff, factors include the 14-day community infection rate. As of October 1, 2020, the Clark County community transmission rate indicates higher risk of transmission in schools.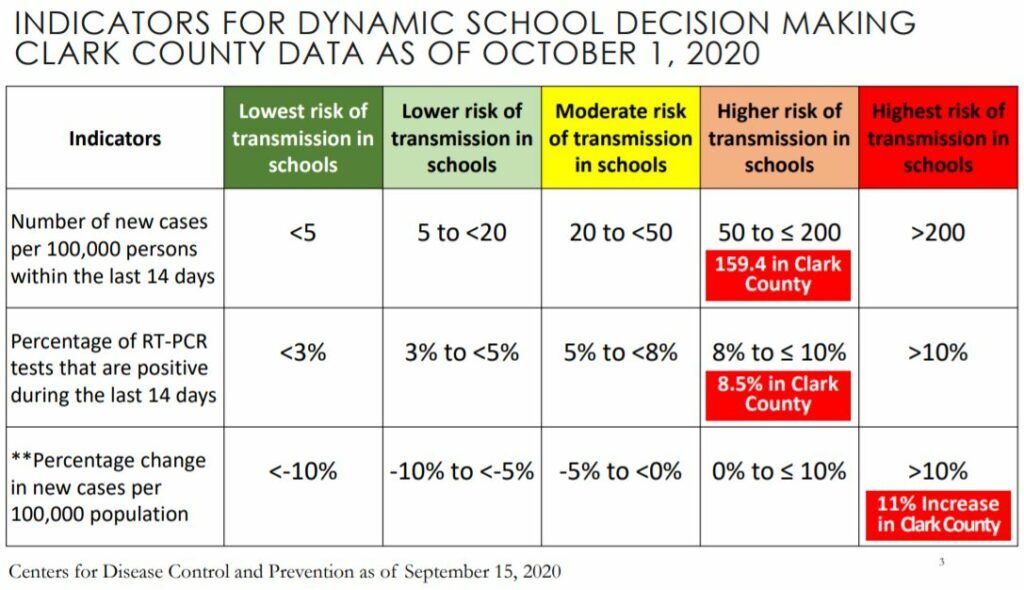 Between September 27 to October 1, 172 children in Clark Country between the ages of 0-17 years have been diagnosed with COVID-19. SNHD is considering the implications of this data as it relates to sending children back to school in close contact.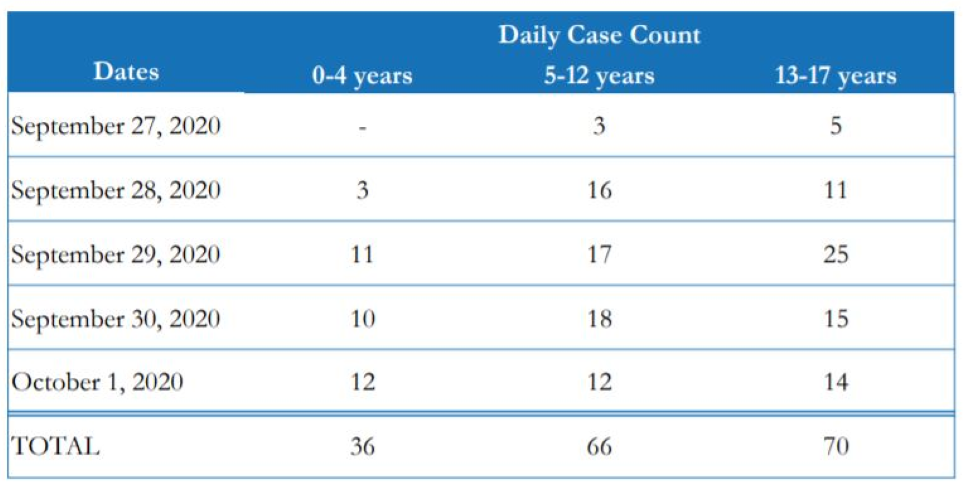 Following Emergency Directive 033, which adjusts the limitation on public gatherings from 50 to 250 people (or 50% of occupancy, whichever is less), SNHD will continue to monitor the behavior of COVID-19 and its potential to impact transmission in schools. At this time, there is no recommendation for schools to reopen.
Task Force Initiative for Educators' Safety and Screening: CCSD staff will have access to free COVID-19 testing through the Task Force for Educator's Safety & Screening (TIES) program. CCSD General Council is considering a contract with emocha Health to monitor TIES. Following concerns Trustees expressed at the September 24 board meeting with regard to requiring employees to get tested and the implications on confidentiality, the TIES program will be provided on a voluntary basis for participating staff. Staff would also be required to complete the ongoing CCSD required health checks while they are on campus. Student testing was not discussed.
Mental Health: Trustees heard a presentation on the mental health supports in place by CCSD personnel, mental health data points, the complexities of dealing with mental health through the supports, and the need to be agile to prepare for a scenario where distance education continues for a longer period of time.
CCSD personnel involved in mental health supports:

Wraparound Services: CCSD has a total of 254 social workers–100 full-time CCSD staff and 154 contracted social workers through Progressus. The ratio of CCSD social workers is 1 to 1,174 students.
Guidance & Counseling: The ratio of counselors is 1 to 400 high school students, 1 to 500 middle school students, and 1 to 640 elementary school students.
Psychological Services: There is 1 psychologist to 1,850 students; the national recommendation is 1 to 700.
Health Services: School nurses are part of the teams at school sites involved in suicide ideation and supports.
Data Points: Trustees heard data on a number of mental health areas, including:

Specialized Instructional Support Personnel (SISP) referrals increased from 10,667 in August/September 2019 to 15,641 in August/September 2020.
CCSD experienced decreases in Department of Family Services (DFS) submissions by staff and community members.
Student suicide ideation reports decreased, potentially due to a lack of face-to-face contact with psychologists and counselors that would normally lead to ideation reports.
From June 2020 to October 1, 2020, CCSD police made 81 home visits in response to suicide ideations.
CCSD safe school professionals, social workers, and mental health professionals conducted 23,825 wellness checks
Supports for CCSD staff: CCSD staff engaged with social-emotional professional learning via Canvas in August, which included Trauma 101 professional learning, suicide protocol training, and self-care for educators. Virtual webinars will soon be made available to support CCSD staff on subjects such as coping with anxiety during COVID-19. CCSD staff will continue to have access to the Life Connection Employee Assistance Program, provided through Behavioral Healthcare Options.
Student Enrollment & Attendance:

Funded enrollment: As of October 1, enrollment is down 4% (or 12,622 students) from prior year. According to CCSD, the majority of the decline can be attributed to the White/Caucasian student population, which was down 7,222 students (or 9.5%) from prior year. Pre-K through 3rd grade enrollment is down 8,167 students (or 8.5%) from prior year.
Withdrawals from the district: Compared to the prior year, private school withdrawals are up over 1,000 and charter school withdrawals are up over 2,000. Homeschool withdrawals are up approximately 2,000 from prior year.
Intent to homeschool: Intents to Homeschool were submitted for 2,122 CCSD students as of September 16.
For the week ending September 18, overall attendance was 90.6% as compared to 94.8% during the comparable 4th week of instruction in the prior year.
Lesson Learned: Trustees heard a presentation on lessons learned from current instructional models and telecommuting responsibilities by other school systems and districts. In a review of 10 representative sample districts, seven are currently operating with full-time distance education, three are currently in transition to a hybrid model, and none currently reporting a full-time face-to-face for the majority of their students.
In a number of districts with plans to transition from full-time distance to hybrid models in January 2021, supervisors will have the discretion to direct staff to return to work locations. Other districts may consider requiring staff to return to work locations to deliver online instruction even though students will not be present. Districts will revisit employee-work expectations prior to transitioning to hybrid models.
Staff Transition to Face-to-Face Instruction Questionnaire:
Last week, CCSD conducted a survey to find out how CCSD school staff feel about returning to work. Responses were received from approximately 80% of CCSD school staff.
Survey results:
55% said 'Yes' when asked if they were planning to return to work locations if the option to telecommute in a hybrid or full-time model remains available.
17% indicated that they would return to work locations only if the District resumes within the full-time face-to-face model.
28% indicated that they did not want to return to work.
The Board interprets this data as the staff's desire to continue to telecommute due to concerns around community health data or a number of staff members with young children at home who would not have supervision. CCSD will need the majority of staff to return to work to implement a hybrid or full-time face-to-face model.
Click here to see the presentation.
Click here to see supplemental student enrollment and attendance data.
Click here to read about this in the Las Vegas Review-Journal.
---
Sign up to receive a notification when a new Ed-Watch post is published: