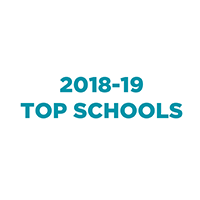 2018-19 Top Schools Report
This annual report showcases public schools across Clark County that are leading the way in results with a high population of students in poverty.
View Report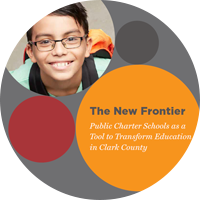 The New Frontier Report, 2016
Opportunity 180, in partnership with Public Impact, published The New Frontier to provide our community with insights about the key role public charter schools can play in working alongside the local school district and committed nonprofit programs to help solve the educational equity problem in Clark County. The research offers recommendations about how we can grow the supply of great public charter schools in a community with constrained resources and tremendous need for more great public schools. Read Executive Summary
View Report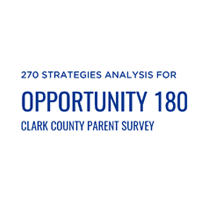 Analysis: Clark County Parent Survey, 2016
270 Strategies partnered with Opportunity 180 and the Department of Education to survey Clark County parents with school-age children to better understand thoughts and opinions about our local school district. The survey targeted parents who have at least one child currently attending a Clark County School District (CCSD) public school. The survey questions were tailored to collect information about how familiar parents were with the CCSD, as well as their general thoughts towards their child's school, and specifically where improvements are needed.
View Survey Results